Taking your business online is one of the best ways to escape the traditional "brick-and-mortar" experience and reach out to new target audiences. If your company is already registered on Google My Business (GMB), you probably know how handy this tool is for capturing the interest of local visitors searching for businesses like you.
GMB has helped many local businesses establish brand authority, make it easier for people to reach them, market their products and services to a broader clientele and overcome location barriers. It is also something that can let you reduce operating costs and provide better customer support.
However, GMB is constantly changing. Recently, Google introduced a feature that is changing many things, and putting plenty of local businesses in the shadows.
Now, Users Can Sort Through GMB Reviews By 'Average Rating'
With the new Google My Business update, users can now sort through various listings and filter them out by "Average Rating." Results for a search from an identical location are different if you add the word "best" to your search query, giving plenty of advantages to businesses with high-score Google reviews.
When adding the word "best," Google will only show listings with a 4.0 or better rating, which is why every review matters now. For instance, if someone goes to Google and searches for "best dentist in Tracy, California," they will be presented with dentists that only have a 4.0 or better rating.
Moreover, users that want to find the best business for their needs can sort through reviews and use the "Average Rating" to see the top-rated companies near them. Features like these give credibility for top-rated businesses and hurt ones that have negative, low or no ratings.
Below is an example for the search query "tracy digital marketing agency." (Yes, we are proud to be #1).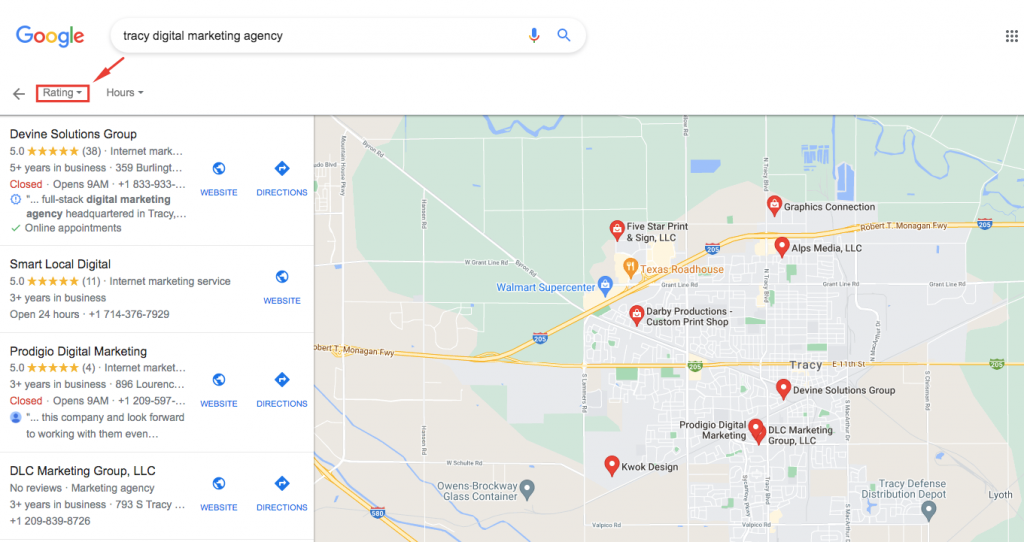 How To Ensure A 4.0 Or Better Rating
As mentioned above, the recent Google My Business updates force businesses to do their best and have ratings of 4.0 and above. Every local business should minimize their 1-star, 2-star, and 3-star reviews to the point of never getting them at all.
Negative feedback capture is something that you should be careful with in times like these. The good news is that at Devine Solutions Group, we specialize in reputation management for GMB listings and help you get more reviews, monitor your current ones, and showcase the best customer reviews.
Tip: Check out our guide to improving your Google My Business (GMB) profile
If your reviews are positive, we can help you by encouraging your audience to trust you, buy from you, and recommend your business to others. If you have negative online reviews, we can assist you with increasing your credibility throughout Google and improve your business's visibility. Our goal is to position you to dominate your local market and be visible among the top results.
Get Your FREE Report And Start Capturing More Opportunities
Visit this link to read more about online reputation and get your free report with actual steps on improving it.
Now is the best time to capture negative reviews before they get posted and turn your positive reviews into more business!