Effective Uses For Google Trends
Google Trends is a very useful tool launched by Google back in 2008 and redesigned in May of 2018. It best delivers statistics and other information about the popularity of specific search queries that people are typing in on Google and YouTube. 
There are many reasons why Google Trends have become a popular source for research and applications. You can use the findings to observe search information and improve your SEO based on search users' needs, wants, demands, and interests in a specific location or worldwide.
Want higher rankings? Here are five ways Google Trends can improve your SEO
Google Trends is an effective resource for social media managers, advertisers, SEO professionals, and business owners.
For example, you can track the success or popularity of specific terms in a country or region. Advertisers, on the other hand, can use it to pull data on actual trends or mediums. Here are five ways you can use the tool for better rankings.
1. Find Search Volume Trends
To find specific search volume trends, type the keyword into Google Trends, and you will instantly see a chart with the keyword trend over the last year. This gives you an idea of which keywords are becoming super popular, and unlike the raw volume number you would see in other SEO tools, Google Trends provides a chart to see the actual progression (meaning popularity) of the keyword month-by-month or year-by-year.
Also, Google Trends can show you all the keywords that are becoming less popular or ones that are fading fast. A good tip is to constantly expand the timeframe to see how keywords have performed throughout history. Here is an example of the term "Superbowl 2022"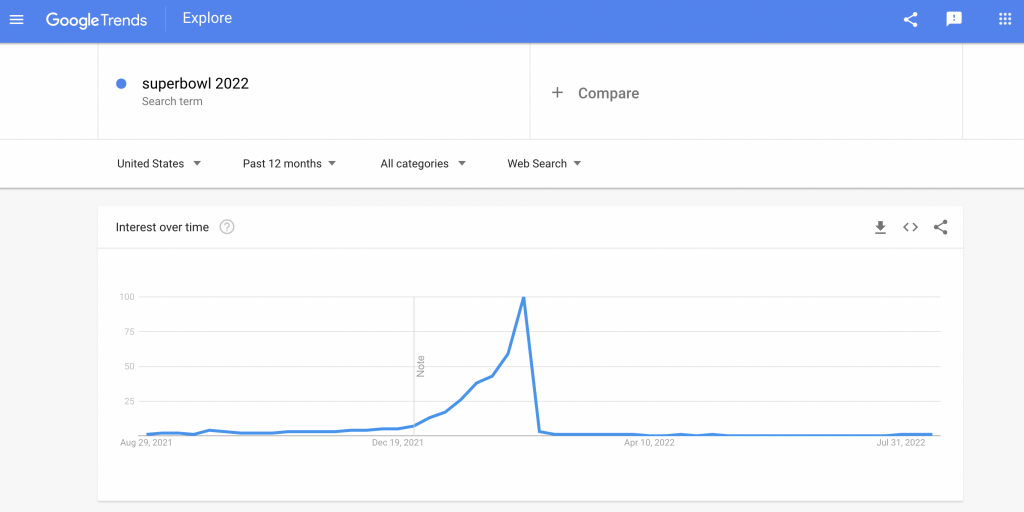 2. Find Related Trending Keywords
Next up is one of our favorite features in Google Trends. All you need to do is run a Google Trends search like you typically would – but after the results are shown, hit the "Related queries" table, and you will see other related keywords that Google considers closely related to what you typed in.
You can use these keywords for further inspiration or use them in your content to back up the strength of the primary keyword and make the text even more relevant to the search engine algorithm.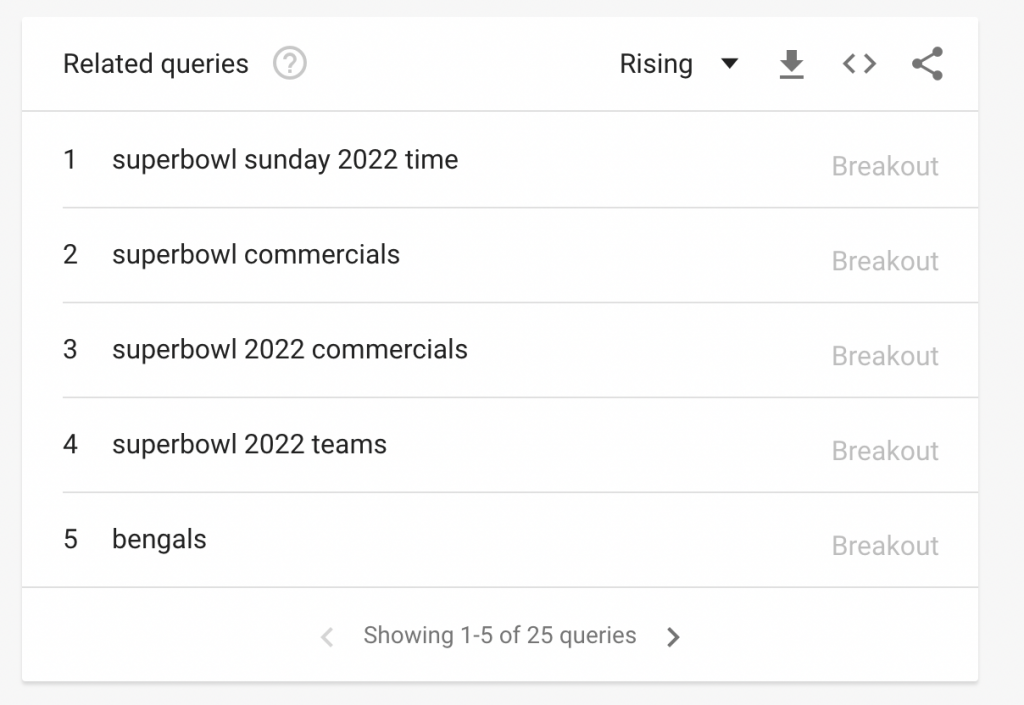 3. Discover "Breakout" Keywords
Many haven't noticed this, but Google sometimes replaces a percentage growth with the word "Breakout," which means that the algorithm doesn't have enough search volume to present a meaningful difference. But if you see a "Breakout" instead of a percentage, it's likely a search term that is growing more than 5000% – or something you can use to your SEO first-mover advantage.
Below is an example of a "Breakout" topic.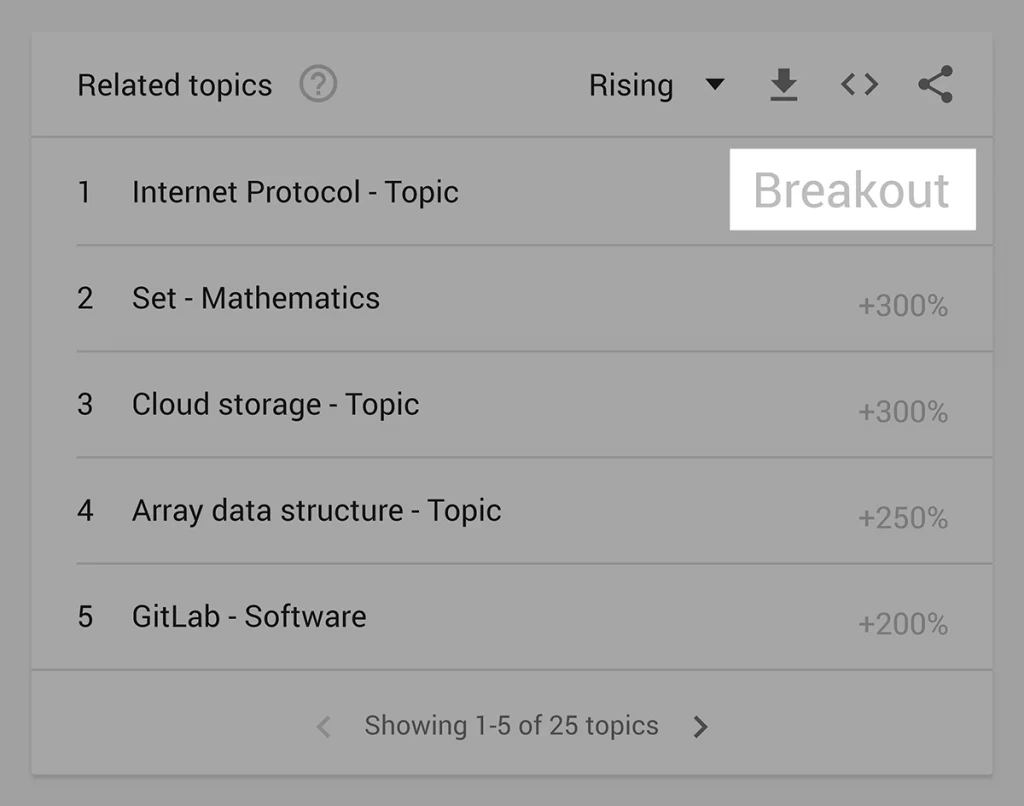 4. Discover Related Topics for Blogging or Video Content
You will love this feature if you are looking for inspiration and load Google Trends to get some data on which keywords to use in your next blog or video content. Like "Related queries," this one is called "Related topics" and shows you which broad topics people are searching for.
You can even toggle between "Rising" and "Top," where the former shows topics that are rising in popularity, while the latter brings up topics that are not steadily growing but still get many searches.
If you search for "Superbowl 2022", here are the related topics we got (as you can see, all of them are "Breakout," which means rising topics.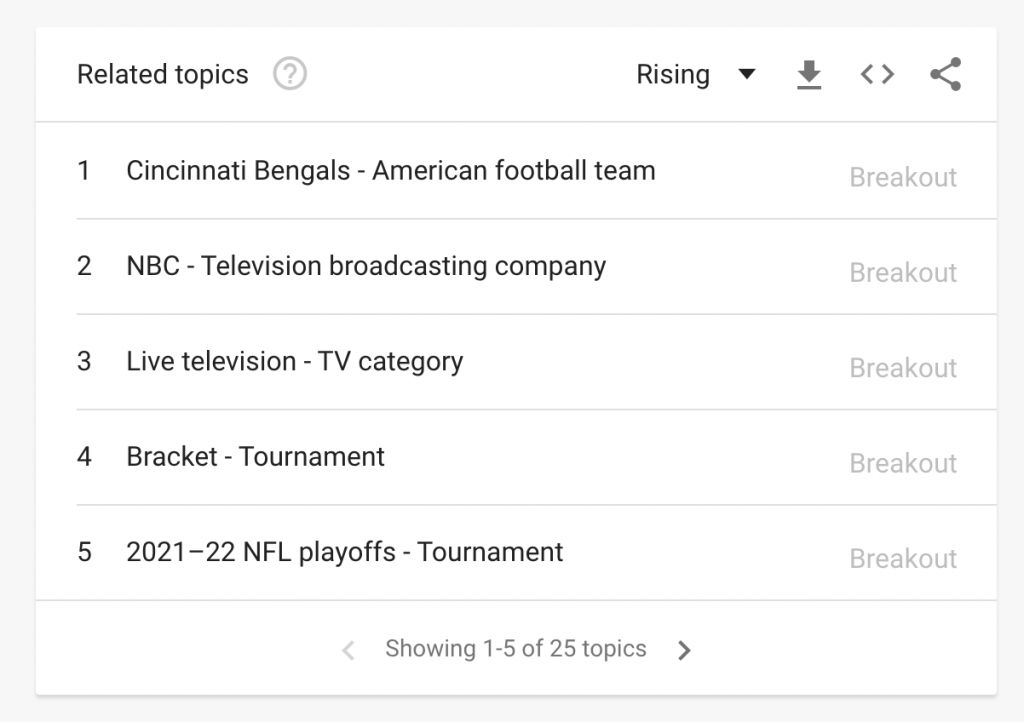 5. Discover Keywords You Can Use in Your YouTube Videos or Google Shopping Products
If you are vlogging on YouTube or selling products on Google, Google Trends can be your great ally. The tool is excellent for YouTube keyword research – all you need to do is switch from "Web Search" to "YouTube Search" when loading up results for a specific keyword.
The same goes for e-commerce sellers. All they need to do is toggle "Google Shopping Search" from the list and see whether that keyword is trending or if there are related ones to it.
Lastly, you should know that all these features can be used by anyone looking to focus on specific terms or queries – global or local. For example, if you want to pinpoint keywords to specific regions, the "interest by subregion" feature shows you how the keyword is trending in specific states, cities, or subregions. Below is an example of the query "Super Bowl 2022" and its popularity in different subregions.

Final Words
Google Trends can help you with your on-page SEO – the keyword metrics available there are super helpful if you want to publish blogs, optimize your products within the Google Shopping platform or create video content via YouTube. 
If you need help with your SEO strategy in 2022, you can book your SEO discovery call with us today and see how our team can help you rank higher and get more leads and sales!