Content Strategies For LinkedIn
Content marketing has never been as important as it is nowadays. Digital marketers are on a constant lookout for channels they can leverage to produce more evergreen content. LinkedIn is certainly one of them – the professional social network is fit for content that can help you reach your goals.
Speaking of goals, drafting a content strategy for LinkedIn can help you with any of the following:
Introducing your business to more potential customers
Sharing industry-relevant news to your target audience
Building a strong brand reputation to win more customers
Adding more leads to your pipeline
Getting more people to sign up for your newsletter, trials, or demos
Building a community of followers that can easily turn into customers
As you can see, there are many goals that you can reach with a solid LinkedIn content marketing plan. However, you also need to focus on the right strategies when creating informative content – listed below.
1. Getting to know your LinkedIn audience
First in our list of LinkedIn content strategies is getting to know your audience. The good thing about this social network is that there is plenty of LinkedIn audience analytics that can easily answer your questions and guide your content creation process.
You can access these insights by going to your LinkedIn company page and choosing Followers from the Analytics drop-down menu. Then, you should go to the bottom of the page, and you will see demographics like industry, job function, seniority, and location of your page visitors.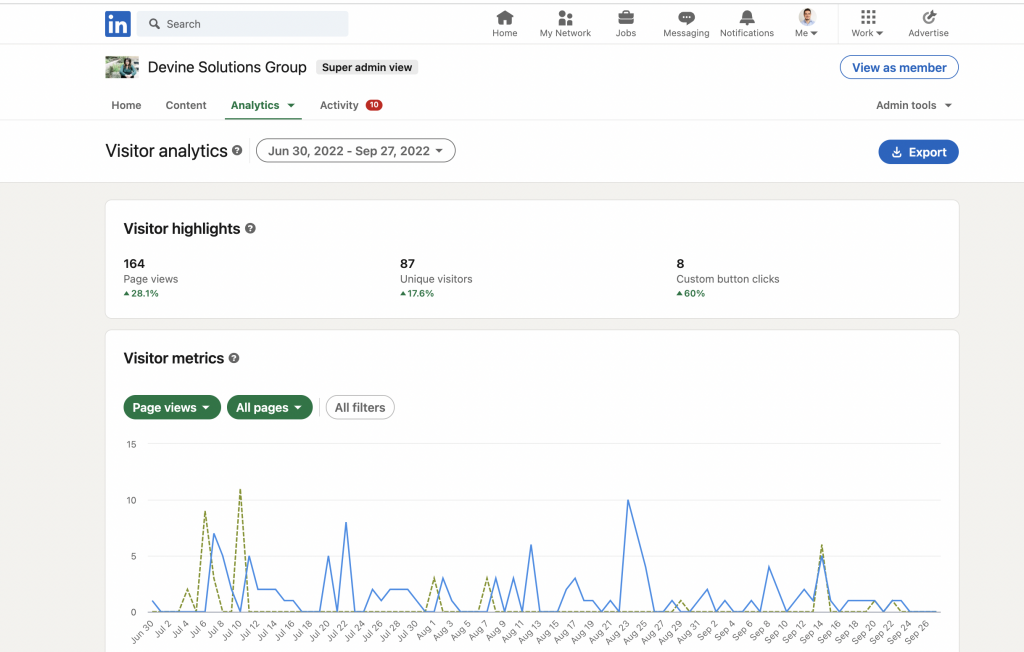 This can help you ideate potential blogs but also track their performance. If you decide to share marketing updates on LinkedIn, you will also see how each post performs and how many visitors your page attracted as a result.
2. Identify your goals and KPIs and utilize the "See More" button
The second step in creating a long-lasting content strategy on LinkedIn is to establish the goals that you want to achieve. Each objective here should correspond to a specific type of content to make your communication strategy effective.
Inbound marketing is something you should focus on – creating content for different types of users and grabbing their attention. However, you should have clear objectives, whether that is more followers on your LinkedIn company page, more views of your blog, more message requests, etc. The big question you should ask yourself is – what do you want to achieve by creating your LinkedIn business page?
Tip: If you want to grab your readers' attention and inspire engagement, you should leverage snippets of content with a "See More" link. This way, users will have to click to view the entire post (they will only see three to five lines of text before the "See More" button). However, you also need to make those first five lines count. Our tip is to start with a compelling hook, use a statistic, and finish with a cliffhanger that ends the (first five lines) with a spin on a common saying. Just like the examples below.
3. Deliver long-form written content to build authority
Long-form content has always been great for building authority. That is why you should definitely use it on your LinkedIn page and publish content at least a few times weekly to follow LinkedIn's recommendation, which is "posting every business day."
As of recently, there is a craze around LinkedIn documents, which essentially lets you post PDF files that users can scroll through in their news feed or download to read later. This is a great way to build brand authority – especially because you can publish up to 300 pages, but we advise publishing 10 pages or fewer. Below is a good example by Dell Technologies.
4. Explore LinkedIn Newsletters to send regular updates to your following
As of December 2021, LinkedIn introduced newsletters which are a great way to further engage your following and build a base of loyal subscribers through the social network. Marketers and business owners know how important newsletters are and how great of an addition they are to any marketing strategy.
To create your LinkedIn newsletter, you must have the Creator Mode turned on, and you must have created a post sometime within the past 3 months. If you haven't created any posts before, start sharing content now, and you will be able to create a newsletter soon.
To set up your LinkedIn newsletter, all you need to do is choose a name, and description, add a logo, and set up an anticipated schedule. For more information and help, you can also refer to this guide to create a newsletter on your LinkedIn page.
Summary
It seems like LinkedIn has gotten a lot better over the past few years. All of the new ways to leverage content to increase your page's following and visitors are paying off for many brands, and there is no reason why you shouldn't practice them, too. With clear goals to achieve and a well-defined target audience to reach, you can identify the best approach and create content that you can repurpose or use in different ways to grow your business successfully.